An action-strategy videogame
Something is rotten in the Kingdom of Hogendale.
Creation is stricken. Trees and beasts sicken, wither and are reborn as shrieking, malevolent shades. The dead claw their way out of the poisoned earth to swarm mindlessly over the land. No living man or woman is safe from their dripping talons.
Whole towns are brought to ruin. King Ionracas' dream of a lasting Pax Hogendala vanishes in an unnatural whirl of blood and misery.
It must be the Witches! Who else could be responsible for this chaos? The King decrees their death by fire. And thus — many an innocent woman is condemned to the sacred pyre.
Now, the flames await you.
Key Features
Time Shift mechanic
Rewind time and fight alongside yourself to help defeat all your foes!
Deep Action-Strategy Gameplay
Plan your strategy and execute it all in real time, across more than 20 distinct missions!
Campaign Co-op
Play the full campaign solo or with a friend!
Unique Mana System
Manage different mana sources to cast unique and innovative spells!
Protect Hogendale!
Use your Spiritsight ability and teleport portals to defend multiple strategic points simultaneously!
Save your allies
Protect your allies from the Cursed Legions and the Corrupted!
Original Soundtrack
Sumptuous, expansive soundtrack filled with epic moments (and a few earworms)!
Startling storyline
Engaging campaign with all the twists, turns, nooks, crannies and what-the-bleep-just-happened moments you would — and should — expect from a story based on Time Travel!
Heroes
Teagan
Edwin
Factions
Allies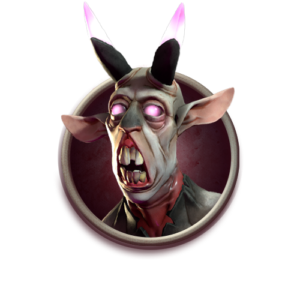 Enemies
The Cursed Legions
TEAGAN MACPHEE
Teagan's parents vanished mysteriously when she was still an infant. Some said they were killed by a rival clan over a gambling debt, some that they perished in the 1422 Holy Fortitude Fire, and some swore blind that they were both still alive, somewhere in the Northern Mines, prisoners of the Lord of the Rats. She, and her brother Edwin, were raised by their uncle Seamus O'Dram, her mother's brother, who took them both in and gave them a place in his home. Above all else, she cares about her little brother Edwin and won't let any harm come to him.p>
There is a case to be made that it was their love for their beautiful and kind niece that prevented Seamus and his wife from revealing to Teagan that her mother had been the last in a long line of priestesses of The Silver Chain.
boutonPlus
X
Such wispy rumours are not easily contained, however, and in these unforgiving days of suspicion and dread, the tenuous link was enough to send Teagan, unjustly, to the pyre. Compassionate and courageous, Teagan feels herself in the debt of the witch Amina, who somehow saved her life. She does not understand what evil forces have been loosed upon the land of her birth, but she has vowed to drive them back into hell.
To do so, she will have to master the new found magical powers roiling within her.
EDWIN MACPHEE
A winsome, outgoing force of nature, lover of ale, songs and tales, Edwin is blessed — or possibly cursed — with an unbounded, contagious lust for life. He is a carpenter, like his father before him, and a good one to boot, but he has bigger dreams. He admires knights from afar and longs to prove himself worthy of the title one day. Just like she would for him, Edwin would do anything for his big sister Teagan.
boutonPlus
X
His bravery and determination are not enough to prevent Teagan's capture by the Royal Guard. He will dutifully follow her on any perilous odyssey, ever ready to throw himself between her and all danger.
ALLIES
The Allies are the last line of defense against the scourge that is threatening existence. They dream of peace, but this is not an age of peace, and they will defend their land when attacked. Old quarrels divide them — it is only Teagan's courage and steadfastness that eventually unites them against a common enemy.
boutonPlus
X
Kilmoulis
The Kilmoulis: these strange creatures have no mouth, and an enormous nose. Presumably their mothers find them handsome enough. They are tireless workers, peerless millers, and brave, loyal fighters. The precision of their ranged attacks is legendary. In a melee, however, they are very vulnerable.
Fafnogh
Fafnogh is the Kilmoulis Chieftain in the region. He is almost venerated as a living God by his people, who would follow him to the End of All Things. He is a direct descendant of Nogh, the celebrated Chief who fought as an ally of Humans to defeat the Sullied King, Amlaib the First, before being betrayed by those same Humans on the eve of the Battle of the Dropped Standard (as the Kilmoulis came to call it). The Kilmoulis' Songs of Memory teach that Nogh and his army won that battle, but that their losses were so great that the very race of the Kilmoulis was almost wiped out. Fafnogh is at best indifferent to Human, but he becomes fond of honest Teagan.
boutonPlus
X
Time Melters
The Timemelters: supernatural beings who abide in the No Time and No Space, an impossible region of existence that would drive any other consciousness to gibbering madness. Their emergence on our plane usually signals an imminent conflict — they intervene to preserve universal balance, which they call The Flow, by manipulating Time and Space.
Amannan
Their most respected elder is called Amannan. It is said that he was present at the very Beginning and at the End of All Things — paradoxes such as this are at the heart of the Timemelters' existence. Amannan and his brethren are the only beings capable of handling the Runes and Moonstones used to travel through time and to teleport through space. Amannan is Teagan and Edwin's somewhat irritable guide through this dangerous period of chaos. His relationship with the witch Amina is, shall we say, fraught. Whether his wariness results from an earlier history with her, or just natural dislike, is not clear.
boutonPlus
X
Villagers
The villagers: hunters, blacksmiths and carpenters, they are pledged to protect their family and know their way around weapons.
Lord Irmil
Lord Irmil: long ago, his ancestors united all the Human Clans to fight with the Kilmoulis against the advancing hordes of King Amlaib the First. But those same ancestors quarreled at the Battle of the Dropped Standard and could not make their alliance hold, leaving the Kilmoulis alone to face the wrath of the Sullied King. The great cost that the Kilmoulis paid for this treachery weighs on the mind of the righteous Lord Irmil. The day has come for him to rally his own to battle, and to ensure that this time, Humans will honour their word.
THE CORRUPTED
Architects of Chaos. They wish to pervert the balance of the Natural World to transform it into a pestilential dominion of putrescence. They will kill when they deem it necessary, but they are first and foremost a force dedicated to the debasement of the living. What they touch, they warp. What they warp, they control. Their ghostly leader, the Dark Puppeteer, has not been seen in living memory, though his influence seems impossible to deny. It is whispered that he once was a High Druid of the Blazing Sun — a good but weak man, whose thirst for knowledge was turned against him by elemental demons that he was not able to resist. In despair, his own wife finally stabbed him with a pewter dagger, replaced his eyes with silver coins, dismembered him and buried the pieces at the four corners of an unconsecrated field. To make sure he would never come back, she then burned the field down and salted the earth over his remains. The poor woman ended her life in exile, half mad with love and remorse. He came back, of course. He was reborn as a twisted, unnatural being who commands life by keeping it within a breath of death. His powers are invisible tendrils of authority burrowing into the hearts of his disciples. By keeping these sorcerous strings taut, he makes his legions obey his every whim.
boutonPlus
X
Pawns
Once honourable soldiers now perverted into mindless pawns of the Dark Puppeteer. They no longer have a will of their own and so they blindly follow their master's. Their numbers are their strength: they swarm by the thousands, erstwhile friends or foes now united as one brutish whole, incapable of surrender, oblivious to death.
boutonPlus
X
The Fallen Ones
Ancient Protectors of the World and members of the Nobility of Elementals. Long ago, the Dark Puppeteer invited them to a Peace Conclave, then betrayed them by letting a poisoned worm dig into their ear, and stripping their mind of all compassion and regard for life. They became the Dark Puppeteer's Principals, utterly unwavering in their loyalty to him. They commands spells of tremendous strength and cruelty. They are forever surrounded by giant, malevolent crows, who amplify their powers through their soul-rending cries.
boutonPlus
X
Lord Galar of the Plague
Long ago, he was the minor lordling of an unremarkable province — a venal glutton, ruled by shameful appetites, who would eat anything put in front of him (there are rumors that he even consumed the flesh of his enemies). The Dark Puppeteer turned him into a purulent behemoth, whose festering body hosts all diseases. He excretes a poison that can spread over vast areas. Slowly, this poison eats away at all living things. Plants wilt, and animals and peoples shrivel unto death. If Lord Galar is not quickly neutralised, all allied troops are doomed to a certain death.
THE CURSED LEGIONS
These legions are manned by the dead. No one living is allowed within their ranks. Death is their domain. Their creed teaches that life is too brittle to be tolerated: they are sworn to annihilate all life in order to bring about the Silent Nothing, the last state of universal non-being, where they can reign forever on an endless oblivion.
It is said that their king is Amlaib the First, the ancient monarch whose grip on sanity was so tenuous that he killed his first three wives (and his husband) by slitting their throat as they slept, claiming that they were trying to poison him in their dreams. To save the realm, his own remaining children walled him in alive inside his own throne room. Legend has it that it took him a month to die, and that his voice could be heard cursing all life for years. He was then seen several times as a specter, haunting his family castle and muttering oaths of revenge, before disappearing forever. He is now called the Sullied King — and though it is believed he leads the Cursed Legions, he has not in fact been seen for centuries, not unlike the Dark Puppeteer.
boutonPlus
X
The Banshee
Witch of old, burned under the Royal Inquisition, who died with her hatred of men in her heart and on her lips. She come back to torment mortals — her baleful screeching shatters the villagers' sanity and drives them to fight amongst themselves with unrelenting violence, unto death.
boutonPlus
X
Bone Walkers
Ancient infantry men driven mad by war and the suffering they endured and inflicted, the Walkers will not know peace until they have destroyed all creatures made of flesh. They are impervious to pain. The light of the day weakens them, but by night they are near invincible. These slow, lumbering creatures possess extraordinary strength, and cannot be compelled to give up the fight.
boutonPlus
X
Death Breathers
Once wizards who have performed forbidden rituals to trade in their very lifeforce for, paradoxically, eternal life. These dessicated husks can raise an army by calling the dead out of the earth. In a graveyard, their powers increase, and they can invoke an infinite number of the Bone Walkers.
Why Autoexec?
We are a video game studio that strives to create innovative gameplay mixed with rich and unique universes. We are inspired by games of old, whether that be consoles games such as: Phantasy Star, Castlevania, Wonderboy III, and even Cabbage Patch Kids for the Coleco Vision, or even older PC games like: Dark Omen, Wing Commander, Diablo, King's Quest, Star Control II, etc… In our honest opinion, every game back then had its own unique gameplay. For example, we can describe games as an RTS now, but back then the only RTS games were Warcraft and Dune 2.
With their uniqueness, these games paved the way for entire genres to be formed, and that's what amazed us back then and still amazes us today. We don't settle with cloning games by simply changing the context or the visuals, we want to create something entirely new, with never before seen mechanics and game rules. Our studio is called AutoExec games as an homage to these pioneers. Back in the day it was a command line you had to enter to start a game, you had to type c:\autoexec.bat, and even sometimes edit it or the config.sys file in an attempt to free up more RAM to launch the game. So, in summary, our goal is to create something fresh, something different, something old time gamers like us will find challenging, but above all else, it has to be fun!
Founded in 2017, AutoExec games is located on the South Shore of Montreal. The CEO of the company is Vincent Blanchard, industry veteran, co-founder of Artifice Studio and co-designer/producer of the game Sang-Froid – Tales of Werewolves, which sold more than 300,000 copies worldwide.